Ready to let go of some guilt today? Oh, come on.. you've got 6 other days of the week to tell yourself, and everyone else, all of the stuff you do wrong - let's use today for the exact opposite! Find one good mommy moment, share it on your blog, and then link up with
B in Real Life
to join in on the fun!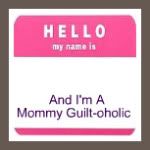 Hello, my name is Mandy, and I'm a Mommy Guilt-Oholic. But, here's a good mommy moment - in my quest to cure this icky-feeling syndrome.
This weekend I left my kids with my mom and
ran laughing
went off into the sunset with my husband for an adults only mini-vacation.
We met up with two other couples (the men-folk are detectives like husband - so they work together and we've known them for-evah) and headed to the hills and the lake! We spent two nights and three days boating, eating out, laughing until we cried, dancing and singing karaoke at the VFW (yes... really.), and RELAXING. No one asked me to cut up their food, no one demanded breakfast at 6:30am, and no one broke out into fights 5 times a day that required me to lose my mind and send everyone to their separate corners. Bliss! **and of course I forgot my camera.. so I don't have a single picture!!**
How does this weave into this "good mommy moment" stuff? Well... getting away WITHOUT the kids helped me miss them.. as in the first night we went to bed I was already wondering how on earth I'd stay away ANOTHER night. (it was the first time we've ever left them for two nights.) I was so ready to get back to them Sunday, and was ready to handle the trials that just happen to go along with having kids. That get-away turned me into a great mommy! And, it gave husband and I some much needed "us" time, and what's more important than providing a stable and HAPPY marriage for your children? The kids are already asking when we'll go away again so they can stay, without us, at Nana's house. Win-win situation if you ask me!
What's your good mommy moment? Go
link up
and support some other recovering guilt-oholics!